AX Gold software and Potenthost.com

Highly Recommends!!!

STOP THIEVES STEALING YOUR PRODUCTS NOW!



Ebook And Software Sellers ...


Discover The Quick And Easy Way To Protect YOUR Products From Internet Thieves


Brand New Software Will Security Lock Your Download Pages In 2 Seconds Flat


No Scripts To Set Up - Everything Done Automatically By Simple Windows Software


SPECIAL OFFER - Full Master Resale Rights Included FREE!




Dear Friend,

If you sell ebooks or software, you will almost certainly know about the problem of product theft.

Lots of people will try to gain access to your product download (or thank you) pages without paying, in order to steal your ebooks or software.

People usually do this by trying to guess the name of your download page.

You probably already reduce this risk by giving your download page a name that is hard to guess.

However tests based on analysis of server logs have shown that some people will spend up to an hour trying to guess their way into a download page.

Some now even use special hacking software, left to run overnight automatically trying millions of permutations to guess the name of your download page.

The fact is that simply giving your download page an unusual name is no longer an effective way of stopping those determined to steal your products.


Download Page Protector quickly and easily protects you from this problem, by automatically adding a special script into your download page.

The special script requires a security code to be included in the link for the download page.

If the code is not included in the link address, the script will automatically redirect the visitor to your home page preventing downloading of your products.

This makes it much harder for someone to guess their way into your download page.




Automatic Search Engine Protection


A second threat to your products arises if your download page gets listed on a search engine.

There are many ways that this can happen, including dishonest customers posting the link to a forum.

Of course, if the link to your download page gets onto a search engine, its easily available to everyone. Your product is free to anyone who searches for it!


Download Page Protector provides very simple protection from this problem by automatically inserting a special "robots meta-tag" in your download page.

Most of the leading search engines will not list pages containing this special tag, preventing this search engine problem from ever occurring.

Unfortunately there are still a lot of search engines which ignore this special tag.

Download Page Protector therefore offers a secondary search engine protection mechanism.

Anyone coming to your download page directly from a search engine link will be automatically redirected to your home page, preventing them downloading your products.

Although it is preferable to avoid your pages getting onto search engines, this secondary mechanism offers valuable protection if it does happen.



A Highly Versatile Protection System


Download Page Protector has been fully tested on the two primary payment services for ebook and software sales, Clickbank and Paypal.

However unlike most other solutions, Download Page Protector is not restricted to these services and should work with any payment service.



Your Quick And Easy Solution


To show you just how easy Download Page Protector is to use, full instructions are included below.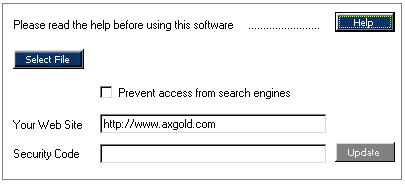 Please look at the screenshot above and follow these simple steps:

1. Click the Select File button and select the download page HTML file.

2. Enable the Prevent access from search engines checkbox to install the secondary search engine security mechanism. (Normally you would enable this).

3. Enter your web site name (such as www.mysite.com). You only need to enter this once as it is automatically stored for use next time you use the software.
If someone tries to access your download page without the correct security code, their browser will be automatically redirected to this address.

4. Enter a security code - any number will do - preferably between 6 and 15 digits long.

5. Click the Update button.

That's all there is to it!

Your download page file will be automatically updated and saved in the same folder and with the same name as the original HTML file, but with extension ".php".

You should upload this new php page to your website in the same way as you would upload any other web page, using your web site console or FTP program.


When you set up the link for the download page (through your payment service), you must change the extension to ".php" and add to the end of the link: "?sc=" followed by your chosen security code.

For example if your security code is 12345678 and your link was
http://www.mysite.com/thanks.html
The new link will be
http://www.mysite.com/thanks.php?sc=12345678

Anyone attempting to gain access to "thanks.php" without including the security code in the link will be automatically redirected to your home page, preventing them from downloading your products.



Full Master Resale Rights Included Free!



Download Page Protector comes complete with master resell rights.

You can sell this software yourself and keep all the money.

Just make one sale and you can recover your investment.

Alternatively you can bundle this software with other products, or even give it away free if you wish.

The software comes complete with a copy of this mini site to help you distribute it.


All This For One Low Price


Of course you are now wondering what this software is going to cost.

Software and ebook theft is a serious problem.

Download Page Protector could stop you losing a significant proportion of your sales.

Add to this the income potential from selling Download Page Protector to others and I'm sure you will agree that this is a valuable offer.

I know I could charge a lot for all this, but I want to help as many people as possible put an end to the damaging activities of product thieves.

So, I'm going to let you have Download Page Protector complete with master resale rights for just $20!

This low price may be increased at any time, so please order now to avoid disappointment.

I'm so confident in the value of this software, that I'm also going to give you a no risk, no questions asked, 90 day, 100% money back guarantee!

There is simply no way you should miss out on this exceptional offer. The 100% no risk guarantee means you simply cannot lose!



Important - Please Check These Technical Requirements Before Ordering

In order to use Download Page Protector, you web site host must support php scripts.
Most paid for web hosts now support this feature, but some companies providing free hosting do not.
Please check that your web host supports php before ordering this software.





Disclaimer: Although Download Page Protector will substantially improve the security of your download pages, there is no such thing as a 100% secure solution for selling ebooks and software.
AX Gold Software Limited makes no guarantees that your product sales will improve as a result of using Download Page Protector and makes no guarantees relating to your income from selling this software.

Download Page Protector is for use on all versions of Microsoft Windows.

The software has only been fully tested with Clickbank and Paypal, but the mechanisms used should work with any payment service. It is recommended that you always make a test purchase after setting up a new download page, to ensure it is working correctly, before allowing customers to use it.



Copyright © 2003 AX Gold Software Limited